YOU DREAM IT, WE BUILD IT
G.O. Blessing Construction
We are a professional company with over 20 years of experience serving the residents and companies in California. And now also serving Georgia. We are looking forward to working with you.
We specialized not only in residential but also commercial. We do our work to surpass your expectations.
WHO WE ARE
Why Choosing G.O. Blessing Construction?
We are a professional company with over 20 years of experience that specialices in exterior wood projects, such as fences, decks, pergolas, retaining wall, siding and more. We put our pride in every project and we make sure our customers are 100% satisfy with our service.
OUR SERVICES
We Are Providing Modern Solutions For You
We are a company that loves to work helping homeowners with their construction projects. We specialize in building and/or repairing wooden.
WORK WITH US
We Are Excited To
Work With You
We get excited about any project we get. Invite us to be your partner whether you need something built, installed or repaired. All of our workers are polite and professional, and our work is guaranteed. You can feel secure in every aspect of our service. We serve California, the Bay Area and now in Georgia.
Georgia
(678) 739 – 7654 / (470) 676 – 3989
georgia@goblessingconstruction.com
California
(510) 381 – 0155 / (510) 672 – 4604
california@goblessingconstruction.com
EXPLORE RECENT WORKS
Our Recently Working Projects
Decks – Fences – Gates – Stairs & Handrail – Retaining Wall – Trellis/pergolas/arbor – Siding – New Projects
Custom Work
We build custom work designs by you or your architect.
OUR COMPANY STORY
Explore Our Projects
Here you can se a brief summary of what we have been working lately, our numbers and our finished projects already.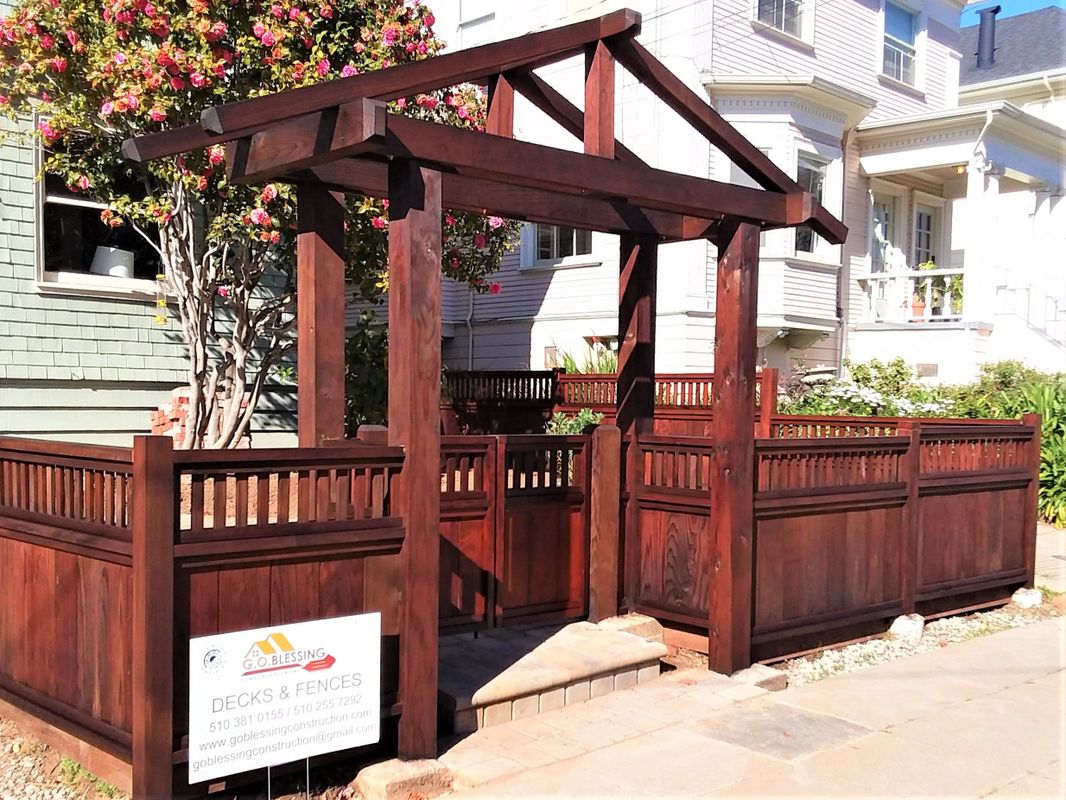 Excellent work from Juan and his entire crew on replacing an ugly chain link with a beautiful redwood fence. Juan is a pleasure to deal with, is prompt, attentive, and very friendly. He obviously takes a lot of pride in his work and his crew seems to enjoy working for him. The job was completed on time and on budget and I highly recommend GO Blessing.
Edwin D.
Alameda, CA
We decided to have them replace another 30" of additional redwood fence , job was done on time and looks great , not a single flaw in any of the work done , the professionalism shown by Juan and all employees was outstanding , My Thanks to the entire crew.
Steven "Mako Man" H.
Martinez, CA
OUR TESTIMONIAL
Customers Love
What We Do
Our customers are sending their reviews about our projects, here you can read some of them to know the way we work.
DON'T MISS ANY UPDATE
Contact Us To Start Working Together